Mersey Tunnel car drivers' toll fees to rise by 10p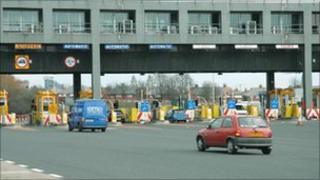 The toll fee for car drivers using the Mersey Tunnels will rise by 10p to £1.60 from April, Merseytravel has announced.
The transport authority approved the rise, which will not apply to Fast Tag users who pay by direct debit, at its budget meeting,
Chairman councillor Liam Robinson, said the rise was "unavoidable".
The Mersey Tunnels Users Association (MTUA) is considering organising a protest against the "unfair" decision.
John McGoldrick, of the MTUA, said: "This increase on already high tolls, is not only a blow to those who use the tunnels it will be a blow for most of the people and businesses in the region."
'Should be welcomed'
The fee will increase by up to 40p for larger vehicles.
Mr Robinson said it was the first rise since 2011 and less than inflation.
He added: "The decision to make no change to Fast Tag charges means that many motorists will feel no adverse impact at all, and it should be welcomed by all tunnel users.
"We were very conscious of the economic background, and acknowledge that the region is facing a challenging time, but under the Mersey Tunnels Act it is presumed that the actual tolls charged must rise in line with inflation.
"If that were the case this time, tolls would have had to rise to £1.80, but members used their powers to restrict the increase to only 10p."
The increase will generate an extra £1.4m a year, the authority said.
Toll fees currently leave an annual surplus of £5.6m, which is spent on other transport in the city including ferries, bus and train services.