Mersey Tunnel tolls set to rise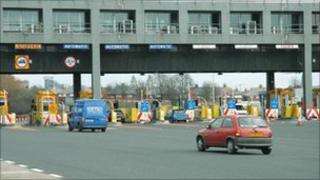 Tolls on the Mersey Tunnels are set to rise by 10p for car drivers from April.
The increase from £1.50 to £1.60 will be put to a Merseytravel budget meeting on 7 February.
A report from the transport authority has recommended its members approve higher fees for all classes of vehicles.
A spokeswoman for Merseytravel said it was not appropriate to comment before the authority had considered the recommendations made in the report.
But the move has been criticised by Wirral Conservative councillor Chris Blakeley who said: "I find this absolutely incredible.
"Over the last 10 years Merseytravel has taken more than £40m pounds in surplus tolls to subsidise half empty new headquarters, tramlines that never saw the light of day and other vanity projects."
The councillor for Moreton West and Saughall Massie Ward added: "This increase is coming at the wrong time for thousands of drivers."