Two shot while driving in Liverpool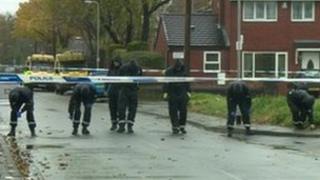 Two men were injured when shots were fired at their car as they drove through Liverpool, police said.
The vehicle was targeted in Deysbrook Lane, West Derby, at 20:45 GMT on Monday.
A 21-year-old was shot in the back and shoulder and a 22-year-old suffered a gunshot wound to his upper body.
After they were shot, their Land Rover was driven erratically to Bridge Gardens, Stockbridge Village, bumping into several parked cars, police said.
Police were called by a resident, who reported two injured men in the street near a damaged Land Rover.
'Fired in public'
Both men, from Stockbridge Village, were treated in hospital and are said to be in a "serious but stable" condition.
A third man thought to have been in the vehicle at the time of the attack but uninjured, has gone missing, police said.
Officers from the police anti-gun and gang crime Matrix unit sealed off both scenes for forensic searches.
They are also carrying out house-to-house inquiries and checking CCTV.
Supt Simon Irving said: "This has been a very serious incident involving several shots being fired in public while people have been out enjoying bonfire night.
"People living in this area will see a lot of police activity in the coming days and I hope they will feel reassured by that presence.
"We are determined to tackle gun crime in our communities and we need the help of the decent, law-abiding majority to take people who use guns off our streets and put them behind bars."