Kenny Dalglish grenade gang appeals dismissed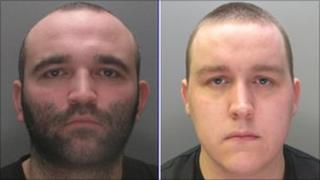 Four members of a gang who carried out shootings and left a hand grenade on a wall at Kenny Dalglish's home have lost an appeal against their sentences.
Kirk Bradley, Craig Riley, Joseph Farrell and Anthony Downes had their cases rejected at the Court of Appeal.
All four men were given life sentences for firearms offences in March.
Lord Justice Treacy, one of three judges who dismissed the appeals, said there was no arguable case to review their sentences.
Rejecting the appeals, the judge said the four had been involved in an "extreme form of gangland warfare" and had used "ruthless and calculated violence".
Bradley, 27, of Formby, Merseyside, and Downes, 26, of no fixed address, were both given life sentences at London's Woolwich Crown Court in March and ordered to serve minimum terms of 22 years for conspiracy to possess firearms with intent to endanger life and conspiracy to cause damage with intent to endanger life.
Both were sentenced in their absence after escaping from a prison van on their way to Liverpool Crown Court in 2011.
The pair were later found in the Netherlands and returned to a UK jail.
Joseph Farrell, 24, and Craig Riley, 26, both of Stockbridge Village, Merseyside, admitted possessing firearms and causing criminal damage with intent to endanger life and were also jailed for life.
Farrell was given a minimum term of 12 years and Riley a minimum term of 14 years.
The four, along with a fifth man, Gary Wilson, were responsible for a series of shootings, which were said to have been carried out for figures in the Liverpool underworld, and for leaving a grenade on the front wall of Kenny Dalglish in June 2009.
The grenade was not left for the former Liverpool footballer and manager, but for a neighbour who had also been the target of two shootings.