Hillsborough lawyer Doug Fraser's comments 'were crass'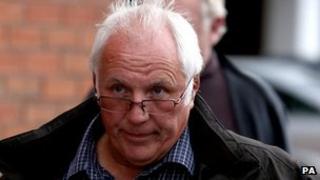 The father of two Hillsborough victims has been angered by remarks from their ex-solicitor about victims' families, detailed in the Hillsborough report.
Doug Fraser, now Liverpool Deputy Coroner, is quoted as saying some families wanted 15 minutes of fame and one needed to be kept from the pub.
Trevor Hicks, who lost both his daughters in the 1989 football stadium tragedy, called the remarks "crass".
Mr Fraser said he would not comment on the remarks, published in 1990.
Mr Hicks said Hillsborough families are considering whether to report Mr Fraser to the Law Society.
'Out of the blue'
The solicitor reportedly made the comments in a conference call, chaired by South Yorkshire Coroner Dr Stefan Popper, saying some families wanted their "15 minutes of fame", in documents released by the Hillsborough Independent Panel last week.
He also said in the same conversation the inquest for one family should be held early "because they are likely to swell the coffers of the local hostelry before they arrive."
It has also emerged from Dr Popper's notes, Mr Fraser had argued no evidence should have been taken after 15:06, which was earlier than the so-called cut-off time of 15:15 decided by the coroner.
The Hillsborough families have argued Dr Popper's cut-off time was too early and the Hillsborough Independent Panel agreed.
"This has come out of the blue," said Mr Hicks, referring to Mr Fraser's comments.
He added relatives will now consider reporting Mr Fraser to the Law Society.
'Long time ago'
"We will have to assess exactly what has been said, unfortunately we may have to turn on one of our own," said Mr Hicks.
"I have had more than 15 minutes of fame since 1989... it is a crass remark."
Mr Fraser said he would not discuss the comments with the BBC, adding they were made "a long, long time ago".
Ninety-five fans were crushed to death before the 15 April 1989 Liverpool v Nottingham Forest FA Cup Semi-Final at the Hillsborough Stadium in Sheffield. The 96th victim died three years later after the Law Lords ruled that his tube-feeding could be ended.
Last week, the independent panel reported that police tried to blame fans for the disaster.
It revealed a cover-up took place to shift the blame on to the victims and that 41 of those who perished at Sheffield Wednesday's stadium could have been saved.
The panel found that 164 police statements were altered, 116 of them to remove or alter "unfavourable" comments about the policing of the match and the unfolding disaster.