Farmers blockade milk distribution centre in Cheshire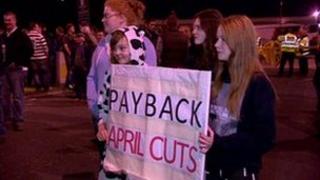 Hundreds of protesters have blockaded two supermarket milk distribution centres in Cheshire.
Farmers for Action (FFA) protested on Thursday evening at the Iceland milk distribution centre in Warrington and the Morrisons site in Northwich.
The farmers protested at the reduction in the amount of money they receive from major milk processors.
Ian O'Reilly, a farmer from Clitheroe in Lancashire, said: "All we're asking for is a fair amount of profit."
Paul Rowbottom, of FFA, added: "It's down to the supermarket to give some of the profits back and the general public obviously realise that."
A voluntary code of practice within the industry was agreed last month but farmers said they want to keep up pressure on retailers.