Hillsborough monument: Council donates £25,000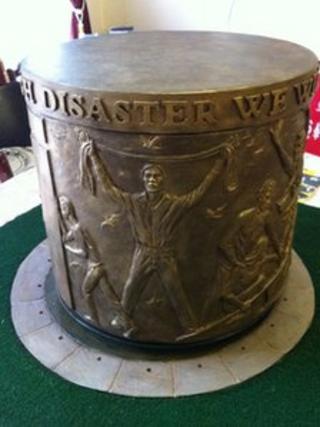 Liverpool's Mayor Joe Anderson has donated £25,000 of council cash towards the creation of a monument honouring those who died at Hillsborough.
Mr Anderson has also promised to help find a prominent location for the 7ft (2m) structure, commissioned by the Hillsborough Justice Campaign (HJC).
He said the area around William Brown Street was his preferred spot.
A model of the cylindrical monument, designed by Tom Murphy, has been made of clay and will be cast in bronze.
The council's contribution will go some way towards the total £152,000 cost.
The HJC has already contributed £37,000 and it is hoping the rest of the money will come from donations.
Sheila Coleman from HJC said the idea came from a child who asked why there was not a monument marking the disaster in the city centre.
Memory box
She said it has the words "Hillsborough Disaster - we will remember them" around its perimeter and two plaques bearing the names of the victims.
It will act like a memory box, with a sealed section inside where the victims' relatives will be invited to put an object that reminds them of their loved one.
Members of the public could also be invited to add a letter or a poem to the box.
"What we are trying to do is make it inclusive, something that is by the fans, for the fans," Mrs Coleman said.
Mr Anderson said: "We will find somewhere prominent in the city for this monument.
"I'm open to suggestions from the public as to where that might be. It seems right to me it should be sited in the St George's Hall quarter.
"I think it is right the memorial is away from the ground as the disaster affected everyone no matter what club they are affiliated to.
"I was at the second semi-final at Villa Park where Everton were playing, but I could so easily have been at Hillsborough if the venues were different.
"I hope the two clubs make a similar contribution to this monument and others will rally behind it."
Liverpool artist Tom Murphy has created sculptures which appear across the North West, including the statue of John Lennon at Liverpool John Lennon Airport and that of Billy Fury outside the Piermaster's House in the Albert Dock.
Ninety-six Liverpool fans died following a crush on overcrowded terraces in Sheffield during an FA Cup semi-final tie on 15 April 1989.