Olympic steam cloud to be visible after Games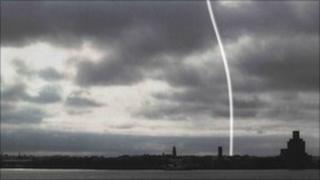 A column of steam planned to rise above Wirral in celebration of the London Olympics will not be put in place until after the Games, it has emerged.
Column by Anthony McCall was commissioned by Arts Council England for the Cultural Olympiad.
It was due to be put in place last year but planning permission was delayed.
The Arts Council said the structure that will make the cloud will be towed to its site in August, with visible testing starting around 25 August.
Column is planned to rise 1.2m (2 km) into the air above the Wirral waterfront on the Mersey, standing at Birkenhead's East Dock directly opposite the Pier Head in Liverpool.
'Not unusual'
The Cultural Olympiad is part of the London 2012 Festival , which is billed as an "explosion of arts and creativity" that runs alongside the London 2012 Olympics.
It opened on Thursday and runs until 9 September, at the end of the Paralympic Games.
As the steam cloud will be on the flight path to John Lennon Airport, the plans had to be given the go ahead by the Civil Aviation Authority.
It has since carried out tests and said it is satisfied there are no safety concerns.
Debbie Lander, London 2012 Creative Programmer for the North West, said: "Column will be presented as part of the 2012 festival and it will be up for a year.
"We're really happy that Column has now got its planning permission and I think everyone wants to see Column working as soon as possible."
Ms Lander said the artist, Anthony McCall, was now working on the design of the structure which would create the vapour for the artwork.
She added: "It's not unusual for artistic projects of this size and ambition to take time to develop, it's going to be part of the London 2012 festival, it's going to be in situ for a year and we will experience that artwork.
"We've got lots of other projects which are happening in Merseyside, so Column is part of a programme that is happening in Merseyside."
Those projects include Niet Normaal - Difference on Display, an international visual arts exhibition questioning the norm at The Bluecoat arts centre in Liverpool, and an installation by artist Oded Hirsch showing a lift unexpectedly bursting through the ground in Liverpool One.