Sefton residents fear rise in care fees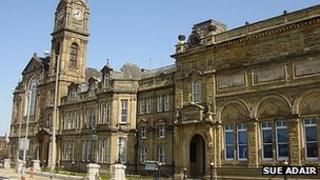 Up to 1,600 private care home residents on Merseyside face increased charges after a council's decision to freeze its contributions.
Sefton Council has voted not to increase the amount of cash it pays towards care home costs.
Jane Wilson, whose husband is cared for in a private residential home, said the decision will double her costs.
Care home owners have warned they may mount a legal challenge against the decision.
The freeze was previously fought in the High Court where it was ruled "the actual costs of care" needed properly assessing before it could be imposed.
Mrs Wilson said the freeze would mean she had to double her contributions to the cost of her husband's care to £500 a month.
"I feel as if they are trying to put over that it is all give and no take from the council, but we are contributing enough at the moment and I feel agitated about [the decision]," she said.
Care home body Sefton Care Association, which represents the interests of 40 home operators, made a legal challenge to the council's December 2010 decision to freeze fees in 2011/12.
A spokesman said the subsequent ruling in November 2011 had seen the council undertake a review of the proposed freeze and to work with care homes to gain "a better understanding of costs".
Following that consultation, the council voted to implement the freeze for 2011/12, which had been delayed while the review was carried out, and continue with the same freeze in 2012/13.
Council leader Peter Dowd said the council's "primary responsibility was that the older people and disabled people we look after are cared for appropriately".
"We will continue to do that and that is why we will keep a close eye on this and monitor it constantly," he said.
Sefton Care Association spokesman Mark Gilbert said it was the "third year running we have not had an increase".
"The council are running a great risk here. If homes start going out of business, what will happen to the old people?" he said.
He added that while he understood Sefton had a "very large population of old people" which the council had to support, the association was "worried that Sefton is not realising what the actual costs are".