Cruise liners to start and end voyages in Liverpool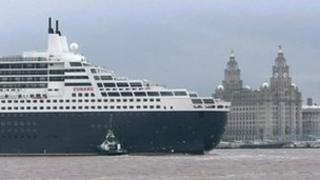 Cruise liners are now allowed to start and end their voyages in Liverpool, the government has confirmed.
Liners have previously only been allowed "stop-offs" at the terminal at the Pier Head.
But the Department for Transport has now been given the go-ahead for the city to be granted "turnaround status".
The status depends on Liverpool City Council repaying £8.8 million of grant aid which it was given for the current stop-off terminal.
Liverpool was allowed to build a cruise terminal in 2007 with public funding on the proviso that it was only used for stop-offs, not turnarounds.
Rival port Southampton had argued it would be unfair to change that status.
But councillors in Liverpool have mounted a long-running campaign, arguing it was a restraint on trade that could cost the Merseyside region £100 million a year.
'Fantastic vessels'
Work began in March on a temporary baggage and customs building at the Pier Head, and Transport Secretary Mike Penning has now given his approval to the status change.
He said in a statement: "I have now received this advice and have decided to accept the recommended figure of £8.8 million as a lump sum repayment or a total of £12.6 million if phased over 15 years.
"In my view this represents a fair outcome that addresses competition concerns while enhancing the benefits to secure which the grants were initially paid."
He is now urging the European Commission to also clear the agreement.
The council is leasing the temporary building on Princes Parade during the cruise season from 2012 to 2015 while it determines whether to build a permanent site.
Mayor of Liverpool Joe Anderson said: "The most important thing today is to celebrate that we've now got the green light, the thumbs up.
"We were going ahead and doing that anyway - I promised that - but the fact that we've now got the recognition that we deserve and government recognise that means that we can now get on with it and start bringing these fantastic vessels back into our city centre."
'Like a shot'
Chancellor George Osborne said: "As a North West MP, I have heard and seen how important this issue is and I am glad the government has delivered for Liverpool.
"I am pleased that the decision will allow cruises to start and finish in the City's port. I look forward to new jobs and investment, along with liners on the Mersey."
John Cooper, from the Liverpool Cruise Club, said the announcement was great news for the city and urged the public to get behind it.
"We've got, at the moment, a couple of small cruise line ships coming in and that is just the start.
"We've got to make sure that those ships go out full, and the reason behind that is that once the big liners see that happening, they need to fill their ships and they'll be in here like a shot."