Liverpool Sea Odyssey giant event's £12m economy boost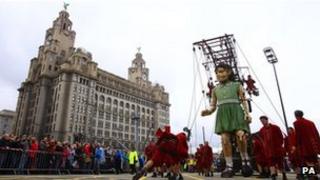 Liverpool's Sea Odyssey street theatre event has been hailed as a huge financial success for the city.
More than 500,000 people visited the city over three days to watch the show, boosting the local economy by at least £12m, the city council has said.
The event, which cost £1.5m, saw a 30ft (9m) little girl, her 50ft (15m) uncle and her pet dog walk through the city.
It was the last production to use European funding from Liverpool's 2008 Capital of Culture year.
Ged Fitzgerald, Liverpool City Council Chief Executive, said: "As well as the benefit that we've had in direct visitors and the tourism related spend and all the feel good factors locally, the PR and media value of this has been absolutely massive.
"It has gone global, it has gone viral - the national media and international media have picked up on it because of the sheer size, scale, chemistry and magic that goes with the giants."
In Anfield, where the spectacular began, local residents said they hoped the legacy of the event would change perceptions of the area.
Lynn Tolman, from Anfield Community Bakery, said people should forget old stereotypes.
"Walking through Stanley Park and seeing how beautiful it is and the Isla Gladstone Conservatory - a lot of people probably haven't seen Stanley Park since it was done," she said.
"The whole of Anfield is a lovely place to be."
Sea Odyssey, created by French street theatre company Royal De Luxe, was inspired by a letter a 10-year-old girl posted in 1912 to her father, a bedroom steward on the Titanic.