Geyser marks start of Liverpool Sea Odyssey Titanic event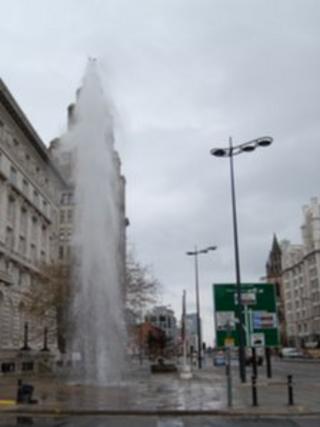 A large geyser has appeared in Liverpool to mark the start of an event commemorating the Titanic disaster.
Liverpool city council estimates more than 250,000 people will attend the three-day Sea Odyssey event.
A 30ft giant girl, a puppet dog and a 50ft giant man will move through the city's streets from Friday.
Many roads will be closed and workers in the city centre have been advised to leave work early on Friday or make alternative arrangements.
A full list of road closures is on the city council website .
The event is being staged by France-based company Royal de Luxe.
Andy Barr, Liverpool council's highways manager, said: "This is the biggest event the city has ever staged, and this means that people may have to make changes to the way in which they go about their business over the three days.
"We have done a huge amount of work over the last few months to get out and visit people living in the affected areas to let them know how it will impact on them.
"We have done our very best to minimise the impact that it has, but when you have three giants roaming the city it is inevitable that there will be a certain amount of disruption.
"We strongly advise people coming into the city centre to use Merseyrail rather than their car."