Liverpool Sea Odyssey event inspired by Titanic letter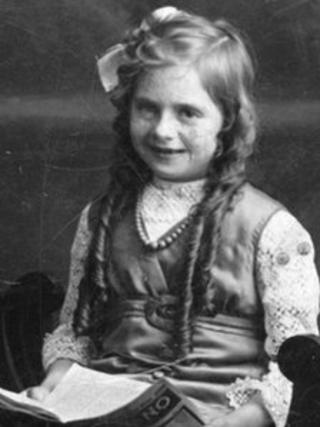 The letter is written in neat, precise child's writing, beginning "Dear Father".
Dated 13th April 1912, it brings news of how the young girl who penned it has recently been ill and is longing to see her absent "dada".
Sent by ten-year-old May McMurray from 60 Empress Road, Kensington in Liverpool, the letter would never reach its intended recipient, William McMurray, a 43-year-old bedroom steward on the Titanic.
A century after it was posted, the handwritten missive, which ends "Dada this is my first letter", has become the inspiration for the UK's largest street theatre event taking place in Liverpool from 20 to 22 April.
Sea Odyssey features three giant puppets, moving through the city's streets in a story that commemorates the Titanic disaster.
Created by French company Royal De Luxe, its story of a young girl whose father died on the Liverpool registered White Star liner, is loosely based on May McMurray's letter.
Returned to sender
William McMurray did not survive the sinking of the Titanic. He left a widow Clara and three young children; letter writer May, another daughter Ivy and son Ernie.
May's letter, now in Liverpool's Maritime Museum, reads: "Dear Father, It seems ages since I last seen you.
"I wish we where in Southampton with you, it is very lonely without you."
William would not see the letter; it reached White Star's offices after the Titanic had embarked, and was returned to sender.
He died when the ship sank, despite having had the opportunity to board a lifeboat.
Alan McMurray, William's grandson, said: "An officer sent him back to look for water and biscuits and he never returned.
"They couldn't wait any longer and the officer said to a gentleman standing alongside the lifeboat 'You get in the lifeboat'.
"The lifeboat was picked up by the Carpathia and they all ended up in Newfoundland where the gentleman who got into the lifeboat in place of my grandfather asked about him.
"He eventually came back from New York to Liverpool and went straight to the White Star office.
"He checked on William's details and found out his address and went there.
"He met my grandmother and told her the tale of what had happened on board the ship."
'A giant witness'
Jean Luc Courcoult, artistic director of Royal De Luxe, came across May McMurray's letter in 2006 while researching ideas for Liverpool's year as European Capital of Culture in 2008.
He said: "Sending her father a letter was such an ordinary thing for a little girl to do.
"Who would have thought something so personal would become so public."
The Sea Odyssey event will see three giant puppets, a young girl, a man and a dog, move a total of 23 miles around Liverpool city centre and the area close to Everton and Liverpool's football grounds.
The story created by Mr Courcoult is of a young girl giant whose father, a 30 foot giant, stowed away on the Titanic and died when it sank.
His brother, the second giant puppet, took a century to learn to dive and having found the wreck of the Titanic has returned to Liverpool to meet his niece and distribute letters from the ship around the city.
Mr Courcoult said: "The idea for the role was born in Liverpool.
"I originally created a story for Capital of Culture year, the birth of the diver story happened then.
"I asked myself what could a giant witness bring back from a century that would have a sense of belonging for the people of Liverpool?"
'Never got closure'
The news of William's death reached his wife Clara on 17 April 1912, their wedding anniversary.
She died of leukaemia a few years later; her family said she never got over William's death.
Nicholas Housley, May's great nephew, said: "My grandmother told me that for many years after she still expected her father to walk through the door as he always had done on previous trips.
"I guess they never got closure until their mother, Clara died aged 37, and I think the finality then was that their mother and father had both gone."
May's letter ends with a goodbye message from William's three children; "Love from all dada hoping to see you soon with love from Ivy and May and Ernie xxxxxxxxxx kisses for dada x"
A special TV documentary - Liverpool's Titanic Girl - is shown on BBC One, Monday 30 April at 20:30 BST