Titanic: White Star Line rug and restaurant card sold at auction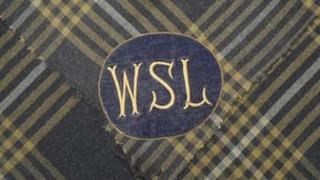 A restaurant card from the Titanic and a rug which was wrapped around one of its survivors are to be sold at an auction in Liverpool later.
The items are part of a collection which once belonged to Polish national Berk Pickard, a third class passenger on the voyage.
The collection also includes a lifeboat badge and silver matchbox cover.
More than 1,500 passengers and crew died when the ship hit an iceberg and sank on 15 April 1912.
The items - which were bought from Mr Pickard's family 30 years ago - are being sold by auctioneers Partridge and Bray at their city centre saleroom on Jordan Street.
Mr Pickard was born in Warsaw as Berk Trembisky but assumed the name Pickard after living in France.
By April 1912, he was working as a leather worker in London and boarded the Titanic heading for San Francisco.
Auctioneer Christopher Surfleet said the collection could be one of the most important to date.
He said: "The fact that we have an original White Star Rug that was wrapped around a survivor is a real coup. No blanket of this type has ever come to the open market before.
"The last time a restaurant card was sold it made £33,000 so we have high hopes for the sale.
"We are honoured to have these items in our saleroom so close to the centenary of the fateful voyage.
"Liverpool will always be associated with the massive liners of the time, and with fantastic architecture such as the Cunard Building, the link still remains to this day."
The Titanic was registered in Liverpool, which was the base for its owner the White Star Line.
Many of the workers on the ship were from the city and it is estimated more than 200 local families lost a family member in the disaster.