Sefton Council football and bowling fee rise 'ludicrous'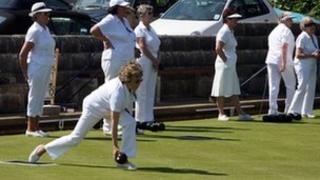 Amateur sports clubs in Sefton have said they could be forced to close if council plans to raise ground and pitch fees are approved.
Sefton Council is considering raising charges for the use of football, rugby and cricket pitches.
Brian Metcalfe secretary of Crosby Sunday League said the planned increase was "absolutely ludicrous".
Council leader, Peter Dowd said the authority was considering ways to "bridge the funding gap".
Labour-controlled Sefton Council has to make budget cuts of £20m for the financial year 2012/13.
The council currently covers the majority of the costs of providing sports facilities including the upkeep of grounds and provision of changing rooms and showers.
Amateur teams and clubs pay an annual fee which the council said was significantly below the actual costs.
'Balance things out'
Under the proposals, football clubs who use council pitches would face an increase of almost £33 per player per year.
Mr Metcalfe said it "would mean devastation to the Crosby League".
He said: "It is more than likely we'll be down to one division, if we are able to find 12 or 14 teams to pay the £1,400."
Mr Dowd said the council had tried to "balance things out".
He said "We have been providing these services fairly reasonably in the past and that can't go on, given the savings we have to make.
"We are not charging junior leagues, they will continue to be free. We have tried to balance things out."
Fees for bowling greens and croquet lawns could also go up.
Ken Buckley, treasurer of Formby Park Bowling Club, said the proposed rise in green maintenance fees from about £400 to £4,000 would mean "local leagues become unviable".
He said: "At this level, clubs will not be able to continue in Sefton."
A final decision will be be made at a full council meeting on 1 March.