Investment plan for North Liverpool and Stanley Docks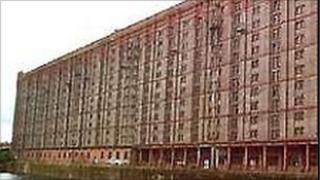 Derelict areas in and around Liverpool's North Docks are to be transformed in a scheme which will bring 1,800 jobs to the city.
The North Liverpool City Fringe Employment and Investment programme will see Stanley Dock transformed into a hotel, shops and apartments.
The tobacco warehouse will also be redeveloped as will areas between Leeds Street and the Liverpool Waters site.
The scheme has been awarded a £25m government regional growth fund grant.
The cash will also help build a combined heat and power plant to generate electricity and hot water for the area.
Deputy Prime Minister Nick Clegg announced on Monday which firms would benefit from the £950m final instalment of the regional growth fund.
The project was developed by Liverpool Vision, the city's economic development company and Liverpool City Council, in partnership with The Eldonians Group Ltd and Stanley Dock Properties.
Ian McCarthy, Director of Programmes for Liverpool Vision, said: "This funding provides a tremendous boost to the economic prospects of North Liverpool and Sefton.
"Partners have presented a compelling case to government to help kick start major projects and remove barriers to investment in this under-performing area, which is so close to the city centre.
"I'm confident this will now stimulate further private sector investment, and employment opportunities."
Malcolm Kennedy, cabinet member for regeneration and tourism at the council, added: "This is great news for the city.
"It will give a major impetus to the regeneration of the area and to the green energy agenda which will benefit the city as a whole.
"This approval provides the bridge between the transformed city centre and the tremendous investment opportunities in north Liverpool."