Mersey Gateway bridge discount for locals call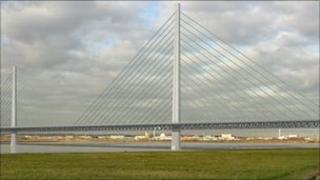 People living near the new bridge across the River Mersey should get a discount on toll prices once it opens, a Cheshire MP has said.
The government confirmed on Monday up to £470m of funding for the six-lane Mersey Gateway crossing to be built between Runcorn and Widnes.
Drivers will have to pay a toll to use it and the existing bridge.
Halton MP Derek Twigg said there was "no option" but for residents to get a discount.
He said: "Ideally I would like no charge for local residents but it doesn't look like that is going to be possible in the current financial climate.
"We've got to try and find the best deal for local people and I will be pushing for that and I know the other councillors in Halton want to try and achieve that as well.
"We've got to look at the figures, look at the money now, and come 2016 when it plans to be open we will need to take account of the situation then as well."
The bridge is intended to ease congestion on the Silver Jubilee Bridge, which has been in place since 1961.
Transport Secretary Philip Hammond pledged the government cash on Monday, saying it would boost growth in the region.
The total cost of the scheme will be £600m, with remaining cash coming from the private sector and tolls.
The toll charges are yet to be set, but they are likely to match the Mersey Tunnels tolls - currently £1.50 for cars and up to £6.00 for lorries to cross between Liverpool and Wirral.