Peel's Wirral Waters International Trade Centre plans approved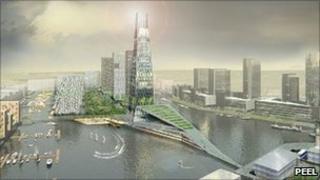 Plans for a £200m International Trade Centre (ITC) in Birkenhead that could provide up to 3,000 new jobs have been approved by councillors.
The centre, planned for the West Float former docks site, makes up part of the £4.5bn Wirral Waters regeneration scheme planned by developer Peel.
Wirral Council unanimously passed the plans for the centre, which will provide a focal point for the scheme.
Peel also wants to start building homes and offices on the site from 2012.
The ITC will be made up of four multi-level buildings, totalling about 230,000sq m (2,475,699 sq ft) which Peel said will enable more than 1,000 companies from emerging Asian markets in China, India and South Korea to exhibit and distribute their goods throughout Europe.
'Get on quickly'
Peel director Lindsey Ashworth said the idea for the centre came from the 2010 Shanghai Expo, where the UK was represented by Liverpool and Peel acted as a sponsor.
"When we were over in China they had these huge trade exhibition centres that were so important for showcasing goods and getting trade moving and I realised that this is what we need here.
"The speed of the planning process on this has been excellent. The application only went in six months ago and these kind of schemes normally take about five years.
"It's the only time to my knowledge that a large scheme like this has had letters of support from all the neighbouring authorities and it's great that the will has been there to get on with this quickly before Wirral misses the boat.
"I've got a lot of Chinese companies who want space and who aren't used to waiting for this kind of development, because in China they go up in a year.
"If you consider that the Trafford Centre took 15 years to get through planning, you can appreciate how rapid this has been."
'On the map'
Chinese-based Sam Wa Minerals is Peel's development partner on the ITC. Its chairman, Stella Shiu, said: "We are already seeing huge interest in China to the idea of coming to the Wirral.
"This scheme will certainly put Wirral firmly on the map, not just for Chinese businesses and investors but for UK and European businesses as well. Now we have planning permission, we can look forward to the area becoming a trading hub which will lead to employment prospects and business opportunities for people in the UK, Europe and world-wide."
Wirral Council leader, Steve Foulkes said: "The decision to grant planning consent to the Peel ITC is an important and exciting step towards a development which will bring new business, jobs and millions of pounds of investment to the borough."
The Wirral Waters scheme was designated as one of 11 enterprise zones around the country in May.
The special status means tax breaks and planning rules will be cut back to attract new businesses and create jobs.
Work is expected to begin as soon as possible on remediating toxic areas of the site to allow building to begin.