Cunard fleet plans Mersey visit for 2015 anniversary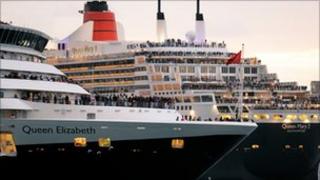 Cunard's cruise liner fleet could visit Liverpool for the company's 175th anniversary in 2015.
Plans for celebrations would see the Queen Mary 2, the Queen Elizabeth and the Queen Victoria together in the River Mersey for the first time.
The event would commemorate the founding of the company in Liverpool by Samuel Cunard in 1840.
Cunard said they are currently establishing what is possible for the celebrations in the Mersey.
The company made its first voyage from Liverpool to Boston with the RMS Britannia on 4 July, 1840.
Two of Cunard's liners will be visiting Liverpool in the next fortnight when the Queen Elizabeth opens the On The Waterfront river festival on Thursday.
The festival will be brought to a close on 15 September when the Queen Mary 2 arrives.
Leader of Liverpool City Council Joe Anderson said: "Cunard's plans are a real coup for the city, and to have the whole fleet of the world's most famous shipping line in Liverpool at the same time will be nothing short of majestic.
"The city is proud to be the home of this prestigious company and we're delighted to be part of their main 175th anniversary celebrations.
"The Queen Elizabeth makes her maiden voyage to Liverpool on Thursday to launch the On the Waterfront event with the Queen Mary 2 arriving in the city as the finale."
A Cunard spokesman said: "At present it is an aspiration, and there is a lot of work to be done to establish what is possible."