Mathew Street Festival: Underage drinking leads to review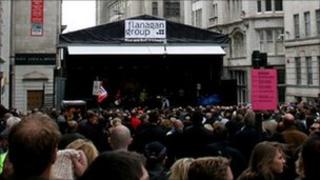 Liverpool City Council will review the Mathew Street Music Festival following complaints of widespread underage drinking at the event.
About 320,000 people attended the two-day event on Monday and Sunday.
The council will look at booking acts to attract an older audience at stages where underage drinking was a problem.
Merseyside Police said a total of 98 people were arrested on Monday and Sunday, the majority in the evening after the festival had ended.
Drinking in public was temporarily allowed for the festival.
'Minority who drank'
Director of Culture Liverpool, Claire McColgan said: "The issue is where are young people getting the drink from?"
"We work very closely with pubs and supermarkets to stop underage drinking.
"If people are aware of places that are selling alcohol to underage people they should tell the city council about it and we will go in with our licensing team.
"Where we had acts that will attract a younger crowd we will look at potentially having music that will attract an older crowd on that particular stage.
"It is a minority who drank and tried to ruin it for the majority of people who were there."
Merseyside Police Event Commander, Supt Simon Irving said: "Our policing operation over the event was extensively planned and our officers policed in a friendly and visible manner so that people are able to enjoy a memorable time for all the right reasons.
"Clearly, however when officers witness excessive drunkenness and its consequences, they have no option but to make arrests so as to protect the vast majority of people out to enjoy a good evening.
"I would also urge parents to be aware of where their teenagers are, as there were a number of young people out and about without parental supervision."