Pepper spray arrest: Call for calm after Jacob Michael death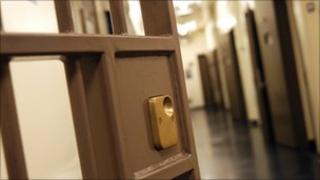 Police have called for calm following the death of a man who had been arrested and restrained by officers.
Jacob Michael, 25, of Widnes, was arrested for alleged affray by police called to Lacey Street, in the Cheshire town, at about 17:15 BST on Monday.
Police officers used pepper spray during the arrest. Mr Michael became unwell shortly afterwards.
He was taken to hospital but later died. Post-mortem tests have so far failed to establish a cause of death.
Further tests are due to be carried out.
The Independent Police Complaints Commission (IPCC) has started an investigation.
'Wait for judgement'
Investigators have been gathering evidence and initial accounts from police officers.
The police van Mr Michael was transported in will be examined, along with CCTV from the custody area.
The 999 call, incident logs and police radio recordings are also due to be looked at.
Cheshire's Assistant Chief Constable Philip Thompson said: "I appeal for people to remain calm to allow the IPCC to conduct their investigation effectively and swiftly and await the outcome of the investigation before making any judgement on this matter."
He said no physical injuries were found on Mr Michael that could be attributable to a cause of death.
"Whilst pepper spray was discharged during the course of his arrest, there is no evidence that the use of pepper spray was the sole factor or indeed a contributory factor to Mr Michael becoming unwell some time after his arrest or as a cause of his death," he said.
'Thorough investigation'
"These are amongst the reasons why further extensive tests will be required to establish an exact cause of death."
He said the force was co-operating with the IPCC and liaison officers were supporting Mr Michael's family.
Commissioner Naseem Malik, who is overseeing the investigation, appealed to anyone with information to contact the IPCC.
"I am aware that people have made comments on social media sites and to journalists indicating they may have witnessed police detaining Jacob on Lacey Street," she said. "I would ask those people to contact our investigators."
She also urged people to "remain calm and have patience".
"I can assure them this will be a thorough investigation, the findings of which will be aired and tested in a public forum at some point in the future."