Hillsborough files: Kenny Dalglish in full disclosure call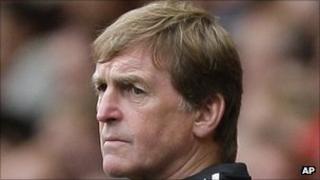 Liverpool manager Kenny Dalglish has backed a campaign urging the release of cabinet discussions from the aftermath of the Hillsborough stadium disaster.
The Cabinet Office said on Wednesday it was appealing against the information commissioner's ruling that the papers should be made available.
Mr Dalglish used Twitter to back an e-petition urging full disclosure of all documents relating to the 1989 tragedy.
The government says such a move would pre-empt the Hillsborough inquiry.
Information commissioner Christopher Graham had ruled the release of the documents would be in the public interest, but the Cabinet Office said any information must be issued in line with the Hillsborough independent inquiry.
The e-petition registered on the government's website calls for "full government disclosure and publication of all documents, discussions and reports relating to the 1989 Hillsborough disaster".
More than 16,000 people have signed the petition.
Mr Dalglish tweeted: "Please sign this petition and RT. Think it is very important that we support this."
The Labour MP for Leigh and former Culture Secretary Andy Burnham, Maria Eagle, Labour MP for South Liverpool and Halewood, and the Conservative MP Therese Coffey, who is a member of the Culture and Media Select Committee, have also called on the government to drop its appeal.
Freedom of Information
Mr Burnham, an Everton fan, tweeted that the appeal was damaging trust in the process. He has written to Prime Minister David Cameron and his letter is co-signed by Ms Eagle.
She said: "Andy and I made the pledge to release all the documents on the 20th anniversary of the disaster on behalf of the last Labour government of which we were both members.
"It is unbelievable that the Tory-led Government is reneging on their promise to allow the inquiry panel to get a full picture of what happened".
Liverpool-born Ms Coffey, who is a Reds supporter, has written to Minister for the Cabinet Office Francis Maude urging him to reverse the appeal decision.
Mr Graham's judgement related to a Freedom of Information request from the BBC which was refused by the Cabinet Office in 2009.
The Cabinet Office said releasing the documents would interfere with the inquiry by the Hillsborough Independent Panel.
The withheld files include reports presented to then-Prime Minister Margaret Thatcher, correspondence between her office and the then-Home Secretary Douglas Hurd and minutes of meetings she attended.
Ninety-five Liverpool supporters were killed in a crush of fans at the Hillsborough stadium in Sheffield, where the club was playing an FA Cup semi-final against Nottingham Forest.
The 96th victim was left in a coma for three years and died in 1992.
Mr Dalglish, who was in his first stint as Liverpool boss when the tragedy happened, attended several of the victims' funerals.