Museum of Liverpool to be opened by Finn O'Hare, 6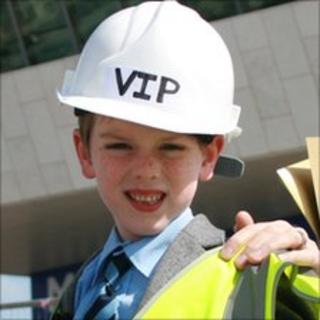 A six-year-old boy has been chosen to officially open The Museum of Liverpool after he wrote to its management asking to be able to carry out the honour.
Finn O'Hare, from Mossley Hill, wrote: "I am good at opening things - Please can I open the museum?"
The largest purpose-built museum in Britain for more than a century, it will be opened by the Carleton House School pupil on 19 July.
Finn has met with museum managers to discuss his role on the day.
Finn's letter opened with "Dear Mr and Mrs in charge of the museum.
'Brilliant idea'
"My name is Finn O'Hare and I am nearly six. I am very excited about when the new museum will open.
"Please can I come to the opening ceremony? It will be great."
Dr David Fleming, Director of National Museums Liverpool, said: "The Museum of Liverpool is very much a museum of the people and thousands of Merseysiders have helped us create the galleries.
"When we received Finn's letter back in autumn we thought it would be a brilliant idea for him to help us open the museum, acting on behalf of all the people of the city.
"We are very pleased that Finn has accepted our invitation to cut the ribbon on this major date in the history of the city."
The museum on Liverpool's waterfront is the first national museum in the world to be devoted to the history of a regional city.
Housing more than 6,000 objects, many of which have never been on public display, the museum will chart Liverpool's history from the Ice Age to the present day.