Liverpool store chain TJ Hughes calls in administrator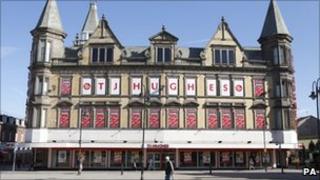 Department store chain TJ Hughes has gone into administration, the firm has announced.
Accountancy firm Ernst and Young has been appointed by the Liverpool-based firm's owner Endless, which financed a management buy-out in March.
The firm, which said its sales were "significantly down" on last year, employs more than 4,000 people at its 57 stores across the UK .
Endless said the firm had suffered from a loss in "credit insurer confidence".
An Endless spokesman said: "We have provided TJ Hughes with working capital since March when it was about to fail and knew then that pulling it back from the brink was going to be difficult.
"Trading at the business has continued to be significantly down on last year as a result of difficult retail conditions and the loss of supplier and credit insurer confidence.
"Sadly, on this occasion, a rescue of the company has not been possible and we will now focus on helping the administrator save stores and jobs."
The homewares, menswear and beauty retailer was founded in Liverpool in 1912 by Thomas Hughes.