Council meets Burton's over closure of Moreton site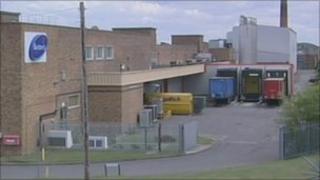 The leader of Wirral Council has asked the chief executive of Burton's Foods to reconsider the closure of the company's biscuit factory in Moreton.
The company, which owns and bakes brands such as Jammie Dodgers and Wagon Wheels, said in January it was closing the site with the loss of 342 jobs.
Councillor Jeff Green said he met Ben Clarke from Burton's on Friday.
He said he wanted to stress the importance of the factory to the local economy and to so many local people.
Mr Green said: "I wanted to hear why Burton's have taken this decision, following so quickly on from their Supply Chain Review of all their sites around the country.
"I stressed to Mr Clarke the importance this factory has to the local economy and the futures of so many families.
"At a time when many employers tell me that having a skilled workforce can be one of their greatest assets, I do not believe Burton's will find a more committed, skilled and flexible workforce than has been demonstrated here at Moreton."
Mr Green has also met with Unite representatives and has asked Mr Clarke if further council support would change their plans to close.
"Following on from my discussions with the unions, I asked Mr Clarke if further council support will change their plan and he has agreed to consider that," he said.
Burton's Foods intends to phase down production at Moreton from March before completing the closure later in 2011.
It also plans to consolidate its Knowlsey multi-site distribution operations in a single location.
It will, however, invest £7m at its manufacturing sites in Edinburgh and Llantarnam, South Wales.