New Liverpool FC boss Jurgen Klopp enjoys drinks with fans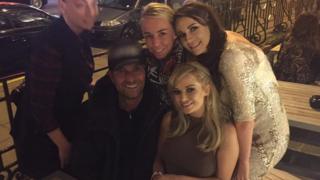 Newly-appointed Liverpool FC manager Jurgen Klopp enjoyed a night out in the city just hours after speaking at his first news conference.
The German was seen chatting to fans in the Old Blind School bar in Hardman Street on Friday.
Revellers said the former Borussia Dortmund manager appeared "relaxed and happy" as he drank lager with his wife and friends.
"He was his usual charismatic self," said Liverpool fan Anthony Riley.
"I didn't take any pictures and didn't want to disturb him too much in case he activated the cooling-off period in his contract and went back to Dortmund."
Rebeckah Vaughan, who posed for a photograph with the 48-year-old, said: "He was really nice and friendly. I spoke to his wife a lot about Liverpool, they were both really happy to be here."
Other supporters posted on social media after seeing Klopp, who had earlier described himself as "the normal one" in his first meeting with the media.
Jess tweeted: "Klopp is in the Old Blind School having a bevy, what a man!"