Crime commissioner reducing staff and moving to GMP HQ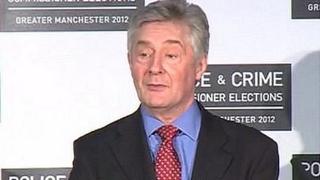 Greater Manchester's Police and Crime Commissioner says he will reduce the number of staff in his team and move to an office at police headquarters.
Tony Lloyd said moving his office from Salford Civic Centre to the force's headquarters in Newton Heath should save about £85,000 a year.
It is hoped the reduction of staff from 39 to 32 members can be done through voluntary redundancy, a spokesman said.
The PCC's interim chief executive Steve Mycio said it was a "pragmatic" step.
He said the restructure would mean "the organisation is focused on providing the best possible service... as well as to generate financial savings".
"This is a pragmatic step which will save money in rent, but also be much more efficient for both GMP [Greater Manchester Police] and PCC staff, given the time currently wasted travelling between our offices," he added.