Healthier Together 'spent £4m on propaganda'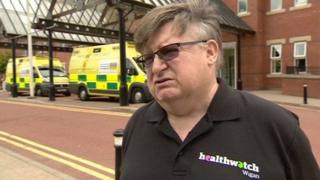 A Greater Manchester health initiative has spent over £4m "on propaganda", a patient group has claimed.
Healthier Together, proposed by the area's clinical commissioning groups, could see up to five specialist hospitals opened in the region.
HealthWatch Wigan claims the groups do not have the right to form a larger body and cannot use public money to push through their proposals.
A Healthier Together spokeswoman said the process was legitimate.
The plan would see Salford Royal, the Royal Oldham and Manchester Royal Infirmary become specialist centres, along with two from the Royal Bolton, Wigan's Royal Albert Edward Infirmary, Stepping Hill in Stockport and Wythenshawe's University Hospital of South Manchester.
'Totally unacceptable'
The proposals are subject to public consultation before approval by NHS England.
HealthWatch Wigan's Sir Ian McCartney said the commissioning groups had been "meeting in secret" to put together their plans and "not engaging properly with the public".
He said that as a result of a Freedom of Information request, "we found out that they have spent £4.1m of healthcare budget on propaganda and other measures".
"It's totally unacceptable and Parliament hasn't given them permission to do so."
Healthier Together's Leila Williams said the clinical commissioning groups had not broken parliamentary rules.
She said the consultation, which runs until September, had been worthwhile, as it ensured "we know that we can make decisions confidently and together with the people of Greater Manchester".