Maxwell Parsons: £2.5m fugitive bank fraudster arrested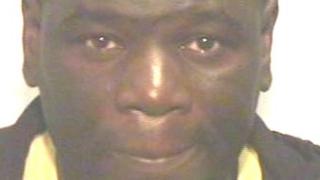 A man who was sentenced in his absence for defrauding the banking industry of £2.5m has been arrested.
Maxwell Parsons, 49, devised computer software to reverse bank transactions, Manchester Crown Court heard.
The gang he led was able to spend money repeatedly from the same banks. At the peak of their activities, police said they "laundered" up to £50,000 a day.
He was arrested in the Nottingham area and will be taken to prison to serve seven years for fraud, police said.
Parsons will also have to serve a three-year jail term, to run consecutively, handed down in his absence in February, for an unconnected offence of theft.
Det Con Carol Britton said it was a "systematic, sophisticated and large-scale fraud".
The bank scam was fully active between December 2008 and June 2009. Purchases were made all over the UK but mainly in Greater Manchester, where the majority of the gang was based.
Two other men received suspended jail sentences for their involvement.