£1,000 found in BHF charity shop dressing table in Sale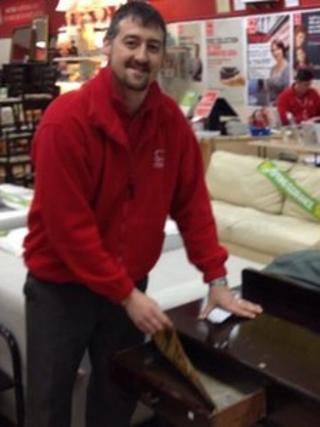 A volunteer has said finding £1,000 stashed in the drawer of a donated dressing table at a Greater Manchester charity shop was "startling".
Gareth Green found the money while preparing the table, which had been brought in with other items from a house clearance, for sale in Sale's British Heart Foundation (BHF) shop.
He said the money was hidden in the lining of the drawer.
The cash was returned to the solicitor who organised the house clearance.
Mr Green said the store received up to 300 items a week and that it was common practice to check each one.
"I was preparing the dressing table for sale and I opened one of the drawers and underneath the lining was an envelope with £1,000 in £20 notes in it," he said.
"We always check things over, looking for little gems - and this was a massive gem.
"It's something you don't see every day - £2 coins, 50ps and 2ps are more common, but £1,000 was a startling find."
The cash was returned, as although the furniture was left to the shop by its owner in her will, her money had been bequeathed to a different charity.
Two vans of furniture and other items were donated, which the BHF said could raise up to £2,000.