Crack cocaine and heroin found in 'Kinder Egg inserts'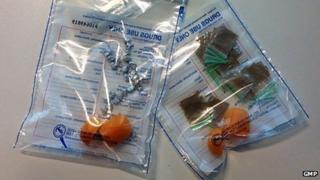 Crack cocaine and heroin hidden inside "Kinder Egg plastic inserts" have been found by police on a Manchester street.
The capsules, which usually contain a plastic toy, were discovered by officers on patrol on St Mary's Hall Road in Crumpsall on Monday.
A Greater Manchester Police spokesman said it was "a surprise" to find the Class A drugs inside.
He said that police wanted to hear from anyone who had information about the drugs.
He added that it had been a "disappointment" that the capsules had not contained a toy.