Rochdale child sex ring: Shabir Ahmed appeal rejected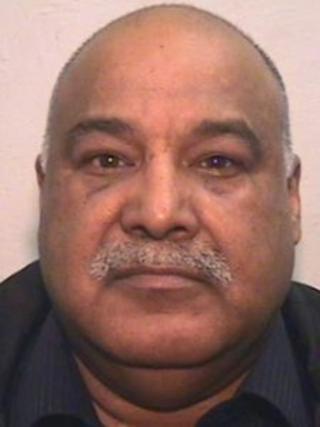 The leader of the Rochdale grooming ring has failed in a legal challenge against his conviction.
Shabir Ahmed, 61, was given a 19-year sentence at Liverpool Crown Court in May 2012 for a string of child sex offences, including rape.
Lawyers representing Ahmed argued that potential irregularities in the jury room meant the guilty verdicts were "arguably unsafe".
But three Appeal Court judges rejected the claim and upheld the convictions.
The court heard that, during his trial in 2012, a report emerged online suggesting that the jury had reached verdicts on seven of the defendants.
The information could only have come from inside the jury's deliberating room and was not the result of guess work, said Ahmed's appeal barrister, Simon Nichol.
He argued the fact the report appeared on a Facebook page linked to a right-wing group suggested "a bias from a juror or jurors".
Used for sex
"The bare facts are such that there is an obvious and real danger that someone in that jury room was communicating with someone outside the jury who had an interest in the verdict," he added.
But the claim was dismissed at the Court of Appeal by Sir Brian Leveson, who considered Ahmed's application with Mr Justice Keith and Mrs Justice Lang.
In May 2012, Shabir Ahmed was jailed for two counts of rape involving a 15-year-old girl and was described as the ringleader of a child sex ring which centred on Heywood and Rochdale.
The men, from Rochdale and Oldham, groomed girls - including one aged 13 - and gave their victims drink and drugs so they could "pass them around" and use them for sex.
Ahmed was also convicted of aiding and abetting a rape, sexual assault and one count of trafficking within the UK for sexual exploitation.
His failed appeal bid did not relate to other sex offences - for which he is serving a concurrent 22-year sentence.