Peel Energy Trafford: Judge backs incinerator plan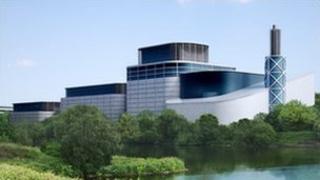 A High Court judge has ruled a biomass incinerator can be built in Greater Manchester despite opposition from the local council and residents.
Trafford Council requested a judicial review of Peel Energy's plans for the £70m Davyhulme plant, which were backed by a government inspector in May.
Residents who formed the Breathe Clean Air Group (BCAG) said they will continue to fight the decision.
The council said it was "disappointed" by the judge's decision.
'Smiling assassin'
The judgement, which upheld the government's decision to allow the Barton Renewable Energy Plant to be built, was made at Manchester Civil Court.
The plant will burn mainly waste wood that would otherwise go to landfill, and generate enough low carbon electricity to meet the needs of up to 37,000 homes, a Peel spokesman said.
A BCAG spokesman said the incinerator would be a "smiling assassin", emitting pollution close to homes.
The group said it has made a complaint to the European Commission about Nitrogen Dioxide levels in the area, after the commission announced it was taking the UK to court over its failure to improve air quality.
A spokesman added: "Today's decision just digs us further into this deep, dirty hole and the Breathe Clean Air Group will continue the fight to climb out of it."
The Environment Agency has previously said it was satisfied the incinerator would not pose a risk to people's health.
Trafford Council said it was considering its position and would "concentrate its efforts on ensuring the number of preconditions, which were set out in the decision for the biomass plant, are upheld to safeguard the health of the people of Flixton and Davyhulme".