Murderer Paul Maxwell absconds on visit to Rochdale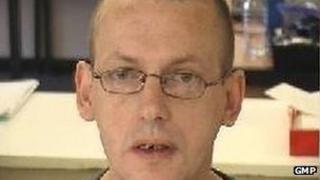 A convicted killer is on the run after absconding while on day release from jail in Greater Manchester.
Paul Maxwell, 49, who is thought to have been serving his sentence at HMP Buckley Hall, disappeared while visiting Rochdale on Friday.
He was jailed for life in 1996 for the murder and robbery of 85-year-old Joe Smales in Wakefield, West Yorkshire.
Police have no evidence Maxwell is a threat but warned he could get desperate if he runs out of money.
Det Supt Jon Chadwick, of Greater Manchester Police (GMP), said: "It has now been more than 24 hours since Maxwell has absconded and our inquiries to trace him are ongoing.
Deerstalker hat
"We are pursuing a number of leads and we will continue to explore every possible avenue in finding him.
"Because Maxwell may have limited access to money, he may surface in the areas he is known to have links to, so I would urge people to be on their guard and if you see this man, please do not approach him but call police immediately."
He added: "It is important we warn people that Maxwell is still at large and ask that people are particularly vigilant at this time, particularly if you are or know an elderly person.
Maxwell has links with Denton, Rochdale, Middleton and areas of West Yorkshire.
Maxwell was last seen wearing blue jeans, a grey fleece top and white training shoes. He was also wearing a deerstalker hat.