Dukinfield New Mill: Homes evacuated over roof damage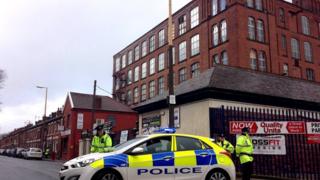 Homes and businesses have been evacuated after part of a roof collapsed in Greater Manchester.
Emergency services were called to New Mill in Park Road, Dukinfield, just after 11:30 GMT.
Tameside Council said the building suffered severe structural damage in last week's storms and the affected section will be demolished on Friday.
A row of about 12 terraced houses near to New Mill are affected, with a refuge set up at Dukinfield Town Hall.
Residents will have to spend the night away from their homes, a council spokesman said.
Councillor John Taylor, of Tameside Council, said: "The wind blew a window out and it has allowed a rush of air to get to the top floor and has moved the gable end.
"I didn't think a mill like this would be damaged by those winds. We did have damage around this area, but it was only minor, but this is mega."