Wheatsheaf Shopping Centre death: Woman made rape claim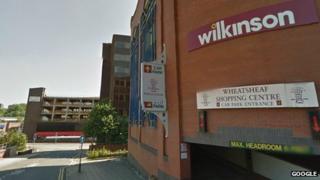 A woman has died in a fall from a car park roof days after a man accused of raping her was acquitted by a jury.
Police spoke to the woman as she stood on the roof of the Wheatsheaf Shopping Centre in Rochdale at 09:30 GMT, but she then fell to her death.
She had been in contact with officers over the weekend as she was "angry and upset" over the court's verdict on Friday, Greater Manchester Police said.
The Independent Police Complaints Commission is investigating.
The police force said two specially-trained officers, who had been supporting the woman since she made the rape allegation, visited her home to give her the news of the verdict on Friday evening.
'Terribly sad end'
They referred her to "other agencies" for support as she appeared angry and upset, the force added.
Later that evening she called police "in a distressed state" and officers, as well as paramedics, made another visit.
She was "in a much calmer state" when they left, the force said, and that officers had given advice and made a further referral for extra support.
Assistant Chief Constable Dawn Copley said: "The woman had been a complainant in a case that recently concluded at court, and throughout that process specially-trained officers from Greater Manchester Police had been providing her with regular support and advice.
"This is a terribly sad end to what has been a long and difficult case.
"A full investigation will be carried out to establish the circumstances leading up to this woman's death."