Graves damaged at All Saints Vicarage in Stockport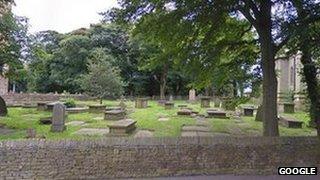 More than 20 graves have been damaged in the cemetery of a church in Greater Manchester.
Headstones were pushed over, flowers were removed and some had the heads ripped off at All Saints Vicarage in Church Lane, Stockport.
Police said guttering and trellises were also damaged on the church between during Friday evening.
PC Bev Trueman said it was "a truly appalling crime" by "thoughtless hooligans".
She said: "I have no doubt it will cause a great deal of shock, outrage and anger in the community.
"It should be a place of peace, tranquillity and resting not just for those who have lost their lives, but also for family members who go there to pay their respects."