Paul Goggins: MP was 'always there for us'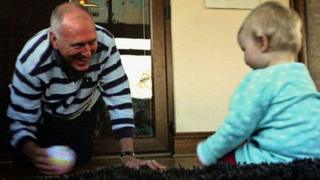 As Paul Goggins' coffin was carried into St John's Roman Catholic Cathedral in Salford there were almost as many priests as MPs attending the funeral of the late Labour MP for Manchester Wythenshawe and Sale East.
His close friend Andy Burnham - the shadow secretary of state for health - recalled how the former junior prisons minister almost had another "ministry".
"Paul once trained for the priesthood but he found another vocation in being an MP," said Mr Burnham, close to tears.
"There was something of the priest in the way he helped people."
"Paul Goggins 'did God' but didn't ram it down your throat," he added.
Mr Goggins died aged 60 on 7 January after collapsing while out running with his son a week earlier.
The MP's coffin was topped with a white wreath and sky blue ribbons, symbolising his beloved Manchester City.
During the 1997 General Election campaign, which saw the MP enter Parliament as Tony Blair swept to power, Mr Goggins joked in his campaign that City had last won a trophy under Labour when they took the 1976 League Cup.
Some of British politics' biggest names - including Labour leader Ed Miliband, his deputy Harriet Harman and former Liberal Democrat leader Sir Menzies Campbell - packed the pews, remembering a man who was loved and respected across party lines but who other people had more intimate memories of.
Joyce Nuttall, from Littleborough, a bridesmaid to Mr Goggins' late mother Rita, said: "I remember Paul as a newborn baby - there's only his father John and me in this church who can say that."
She added: "In some ways you could always see that he would be an MP - he was always a good lad and very political."
Sheila Pinder, who had known Mr Goggins since 1973 from his days in an amateur dramatics group, said: "I remember when he was selected to stand for Parliament, his dad was so excited - I was the first person he called.
"I don't think anyone else was at home."
'Tears of joy'
She added: "The last time I saw Paul was in August, he had taken time out of his busy schedule as an MP to come to my mother's funeral - that's the kind of man he was."
Gathering outside the cathedral as the cortege left, people recalled a "sincere" public servant devoted to his family and dedicated to his constituents - and Manchester City.
Chris Bain, a friend from university and director of the Roman Catholic international aid agency Cafod, used to share a house in London when Mr Goggins was first elected and when he had just started work with the agency in the capital.
"Paul's family always came first, even when staying in London," he said.
"Every night he would come into the house, make himself a cup of tea, sit in his chair and ring his wife Wyn and they would talk about their respective days and what the kids were up to."
Mr Bain added: "For all Paul's achievements in politics and social campaigning, he once told me he was most proud of how his children had turned out - 'Wyn and I must have done something right'.
"He had tears of joy in his eyes as he showed me pictures of his first grandchild last year."
Constituent Bernard Caine, a member of several tenants groups in Wythenshawe, said the MP was "always on call and was always ready to help people".
He added: "He was very professional and also very firm when he needed to be. He was always there for us."
Before entering Parliament Mr Goggins led the inter-church campaign group Church Action on Poverty. The man he succeeded as director of the group, John Battle, who served as Labour MP for Leeds West from 1987 until 2010, had no doubts of his colleague's legacy.
"Paul was a personal and practical inspiration to me," said Mr Battle.
"By that I mean he got things done and didn't just talk about ideas."
MPs of all parties have paid tribute to the respect Mr Goggins showed for all people and how he never had a "bad word to say" for anyone.
Mr Battle believes such comments remind him of how the death of another former Labour politician changed the mood at Westminster.
"This is his lasting legacy - I think his death is a John Smith moment."