Jury in trial of Dale Cregan's mother discharged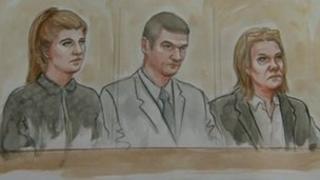 The jury in the trial of Dale Cregan's mother and a police call handler has been discharged.
Greater Manchester Police call handler Kathryn Smith, 25, denies misconduct in a public office.
Anita Cregan, 56, and Sean Booth, 30, deny aiding and abetting Ms Smith to commit the offence.
A judiciary spokeswoman said the decision at Manchester Crown Court was due to a medical emergency involving the sitting judge's family.
"An emergency has arisen in which Mr Justice Openshaw has been called to hospital to attend a close member of his family who has been taken seriously ill," she said.
Ms Cregan was due to give evidence at the court earlier. A fresh trial will take place next year.
Dale Cregan, 30, was given a whole-life sentence in June for the murders of PCs Nicola Hughes and Fiona Bone and the killing of father and son David and Mark Short.