Salford Royal Hospital praised by Care Quality Commission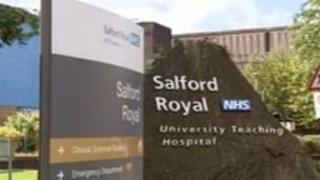 The Salford Royal Hospital has been praised by the Care Quality Commission (CQC) for being "extremely well-run" with "a strong leadership team".
A CQC report said the Salford Royal NHS Foundation Trust's services were "effective and patient-focused".
Hospital chief executive David Dalton said the trust is "striving to provide the safest care in the NHS".
Salford Royal was inspected in October under a new inspection system set up after the Stafford Hospital scandal.
Inspections over three days - a mixture of announced and unannounced - looked at accident and emergency, medical care, surgery, critical care, paediatrics, end-of-life care and outpatients.
Patient care 'personalised'
Inspectors spoke to staff, patients and visitors during focus groups, interviews and a patient listening event.
Mr Dalton said: "It's really pleasing that the vast majority of patients that inspectors spoke to during their time at Salford Royal were happy with the care and treatment they were receiving."
The trust has "a strong culture of learning and a real drive to continuously improve" he said.
CQC chief inspector Prof Sir Mike Richards said: "We found it is an extremely well-run trust, with a strong and stable leadership which was embedded at all levels within the trust, across all wards, consistently and without fail.
"Staff were encouraged to be innovative in improving the quality of care.
"They were able to tell us how quality was given a high priority and that patient care was personalised."
Salford Royal NHS Foundation Trust treats about 400,000 patients a year and provides a range of medical, surgical and emergency services, along with specialist care for brain, kidney, bone, intestine and skin conditions.