Neville Neville told twice to 'stop' sex assault, court hears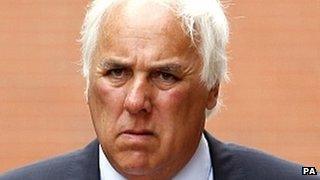 A woman who claims she was sexually assaulted by the father of footballers Gary and Phil Neville has told a jury she told him to stop twice.
Neville Neville, 63, of Larkfield Close, Bury, denies one count of assault by penetration on a woman.
Mr Neville did not deny the incident took place on 23 March but told detectives it was consensual.
The woman told Bolton Crown Court she went "stiff", which was like "my body was saying it was not consensual".
The court heard the woman, who knew Mr Neville, had offered him a lift home in her car after a night out in Bury due to the snowy conditions.
She said she told him to "stop it" twice at the end of the alleged assault, but did not say "no".
"I was stiff. That is 'no' without saying 'no'," she said.
"It was like my body was saying it was not consensual, this."
"When someone pounds on you, you freeze."
'Pinned'
Defence barrister Orlando Pownall QC said Mr Neville thanked her for the lift home and leant over and said "Give us a kiss, sweetheart".
The woman said Neville had "pinned me to the seat".
"I did not kiss Neville Neville. I honestly didn't."
She said her only concern had been to get "an old man" home and denied that she came up with her version of events after regretting the consensual sexual activity.
She added that she had confided in a friend, who had urged her to go to police.
The jury was told the woman feared she could not report the incident as it was Mr Neville and said the "press will be involved".
Mr Neville is the former commercial director and commercial manager of League one club Bury Football Club.
He was involved in the fans' group Save Our Shakers, which was formed when the club faced bankruptcy in 2002.
The case continues.