Neville Neville denies 'drunken' sex assault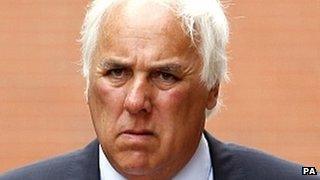 The father of former Premier League and England stars Gary and Phil Neville sexually assaulted a woman after having "far too much to drink", a court heard.
Neville Neville, 63, of Larkfield Close, Bury, denies one count of assault by penetration on a woman.
Married Mr Neville did not deny the incident took place on 23 March but told detectives it was consensual, Bolton Crown Court was told.
The woman, who knew Mr Neville, had offered him a lift home in her car.
'Knew full well'
She had offered to take him home after a night out in Bury due to the snowy conditions, the jury was told.
Prosecutor Peter Cadwallader said she was about to drop him off near his home when he suddenly "lunged" at her.
He said: "The Crown would say he had far too much to drink."
The woman became "more and more distraught and frightened" by Mr Neville's persistence, the jury of eight women and four men heard.
She said she told him to stop but he persisted. Eventually Mr Neville got out of the car and she drove off, the court was told.
Mr Cadwallader said: "She was in a distraught condition. She did not know at that stage what to do."
'Abused kindness'
A video of the woman's interview with police was played to the jury.
She told a female officer: "I felt I was doing him a favour on dropping him off because it was snowing... he abused that kindness really."
"I did not want him to fall in the snow and slip," she added.
The woman told police she "sobbed all the way home" and thought it her fault "because I didn't push him off".
She added: "I thought no-one would believe me."
Mr Cadwallader said Mr Neville "accepted" the incident had occurred, but claimed it was consensual.
"The Crown say it was not consensual and he knew full well it was not consensual because she told him so," he added.
Gary and Phil Neville sat in the public gallery during the first day of their father's trial.
Mr Neville is the former commercial director and commercial manager of League one club Bury Football Club.
He was involved in the fans' group Save Our Shakers, which was formed when the club faced bankruptcy in 2002.