Barton Moss site rally held by anti-fracking protesters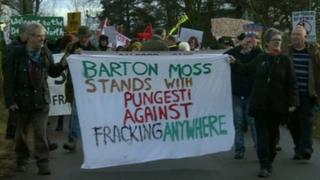 Anti-fracking protesters have taken part in a rally at an exploratory gas drilling site in Salford.
Energy company IGas has permission to build a vertical test well at the site in Barton Moss, between Barton Aerodrome and the M62 motorway.
Frack Free Greater Manchester said the rally showed "solidarity" to the campaigners who are camped at the site.
IGas said it had no plans for fracking and was "trying to work sensitively" with protesters.
But campaigners fear the process could lead to the discovery of shale gas and future fracking to extract it.
Some protesters set up a camp last month, in a bid to prevent lorries carrying equipment from entering the site.
'Interrupting people's lives'
IGas said the rig would be taken down in three months.
Carmen Peruga, from Frack Free Greater Manchester, said the rally was organised to show the support for the protest camp that the "wider community" has.
She added they wanted to "let them know" that "there are plenty of people wishing them well".
The protesters marched from the main road to the site during the rally.
Andrew Austin, chief executive of IGas Energy, said: "We really respect the right for peaceful protest but interrupting other people's lives does not really seem fair.
"We are trying to work sensitively with protesters to make sure we can continue operations and they can continue their rightful legitimate protest."
He said the firm would conduct "a full consultation with the local community" before submitting planning applications and bids to renew environmental permits if plans for fracking are developed.
IGas said it could have 10 to 15 sites between Manchester and Liverpool, with each area measuring about the size of a football pitch.