Four arrested at Barton Moss fracking protest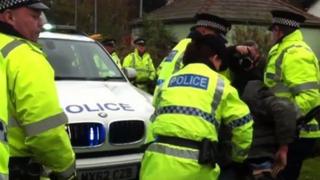 Four people have been arrested during the second day of a fracking protest in Salford.
More than 25 campaigners tried to block the access road to prevent energy company IGas delivering more equipment for a gas drilling rig at Barton Moss.
Police tried to move protesters on so a convoy of lorries could reach the site between Barton Aerodrome and the M62.
Three men and a woman were held on suspicion of obstructing the highway. All are currently in police custody.
IGas said it was "saddened" by the action.
On the first-day of the protest on Tuesday, a 41-year-old Glossop man was charged with obstructing the highway and obstructing police.
Greater Manchester Police said he was also one of the four people arrested at the site earlier.
'Backed into a corner'
IGas said it planned to build a vertical test well and said the rig would be taken down in three months.
It has permission to start drilling to see what type of gas or oil can be found and the company says it has "no plans" for fracking.
But campaigners fear the process could lead to the discovery of shale gas and future fracking to extract it.
Pearl Hopkins, who lives within a mile of the site, said: "We've been backed into a corner and we now feel we have no option but to take matters into our own hands and protect our community."
Protesters from Frack Free Greater Manchester are living in tents at the site and say residents support them.
Friends of the Earth said no environmental impact assessment (EIA) had taken place at the site and permission did not allow for shale gas exploration.
IGas said the development did not currently require an EIA.
A spokeswoman said: "We respect the right to peaceful protest.
"However, we do not condone any activity that is illegal or disrupts the local residents or local businesses and we are saddened by this action."
Earlier this year, IGas said there could be up to 170 trillion cubic feet (4,810 cubic km) of gas in the areas of northern England it is licensed to explore,