Stockport furniture shop collapses into street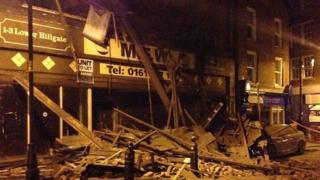 An old furniture store in Stockport collapsed into the street, crushing a car and leaving behind just a chimney wall and part of the ground floor.
The upper floors of the building on Little Underbank fell without warning, leaving smashed debris strewn across the street.
Five people were evacuated from neighbouring flats following the collapse at 19:00 GMT on Thursday.
Part of the road, near Stockport Market, has been cordoned off.
The chimney stack wall and part of the ground floor are still standing, but the rest of the building has fallen, some of it on a silver BMW car.
One of the evacuated residents said he was in his lounge when he heard a sound "like the loudest thunder I have ever heard".
He added: "Then dust and debris started flying past."