Men jailed after '£80m' cannabis importation case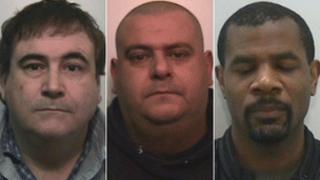 Five men who smuggled 20 tonnes of cannabis worth £80m into the UK from Holland, have been jailed.
Police said the operation, which saw more than £8m of the drug seized, was "the largest ever prosecution for cannabis supply in the UK".
A 1.8-tonne shipment of the drug was found by police hidden in a cold store of frozen meat.
Michael Levy, Ian Thompson, Carmello Abela, Geno Abela and Rizwan Safdar were tried at Manchester Crown Court.
Carmello Abela, 53, from Tameside was jailed for 12 years for drug smuggling, Geno Abela, 42, from Bolton, was handed a nine year sentence, Michael Levy, 44, from Manchester, received eight years, and Ian Thompson, 42, from Rochdale got a five-year term.
A fifth man Rizwan Safdar, 30, from Oldham, who had admitted supplying cannabis, was jailed for 20 months.
'Complex investigation'
Police first uncovered the operation when 50kg of cannabis valued at £422,450 was found in a car linked to Safdar that was stopped on the M67 motorway.
Investigations then led to a 1.8 tonne shipment of the drug, valued at nearly £8m, which was found in a cold store covered by frozen meat, at an industrial estate in Mottram, Greater Manchester.
Levy was caught in a Greater Manchester Police Surveillance operation.
Carmello and Geno Abela were linked to a bogus company transporting the cannabis following an investigation by West Yorkshire Police, which indentified 13 previous shipments that might have contained 20 tonnes of cannabis with an estimated £80 value.
Det Insp Phil Little, of the West Yorkshire force, said: "This was a long and complex investigation with officers conducting enquiries throughout the UK and Holland to gather the evidence necessary to show the full extent of the defendants' criminality."
He said in addition to the lengthy prison sentences the gang would also have their assets seized under the Proceeds of Crime Act.