Chloe Waddell: Olympic swim hopeful died of heart defect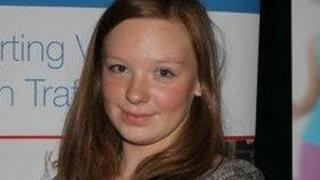 A teenage Olympic swimming hopeful died from an undiagnosed serious heart defect, an inquest has found.
Chloe Waddell, 16, was aiming for the Rio 2016 Olympics and had swum at the National and British Championships.
She was found unconscious by her father at their home in Timperley, Cheshire, in February.
The inquest at Manchester Coroner's Court heard she had a heart almost twice the normal size for a girl her age.
Miss Waddell had been drinking and become unwell at a party the night before she died, the inquest heard.
At about 23:30 GMT her parents went to pick her up from the party as she was feeling unwell.
Mrs Waddell said her daughter was "very apologetic" and, although she had been drinking, did not appear very drunk and was still walking and talking and awake.
Her father went to check on her the following morning and noticed her lips were discoloured and she was cool to the touch.
An ambulance was called while her mother attempted CPR and she was rushed to Wythenshawe Hospital but doctors were unable to save her.
The alcohol may have interfered with her natural heart rhythm, although she could have died at any time from the condition, the court was told.
'Serious problem'
Coroner Nigel Meadows, giving a narrative verdict, said: "There's a combination of natural disease and the unnatural effects of alcohol.
"Chloe suffered from undiagnosed hypertrophic cardiomyopathy, which is a serious heart condition which can lead to unexpected and sudden death.
"A combination of her natural disease process and alcohol consumption resulted in her having cardiac arrhythmia or cardiac arrest, from which she could not be resuscitated.
"Chloe had no idea she had this heart condition, you would not know and no-one was to know.
"It's very likely, in my judgment, at some point Chloe was going to have a serious problem."
Miss Waddell, a member of both the Swim Trafford and Altrincham Swimming Club, had competed in the Olympic trials against Rebecca Adlington and swum at the National and British Championships in the 200m, 400m, 800m Freestyle and Open Water events.
She had also been selected to attend British Swimming talent camps including an open water development camp last year.