Car hits boy on pavement after 'racing' crash in Bolton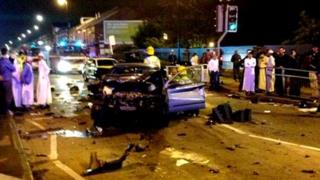 A 12-year-old boy is fighting for his life after two cars crashed into another car and pedestrians in Bolton.
The boy and a 50-year-old man were hit in St Helens Road in Daubhill at about 23:30 BST on Sunday as people were leaving a nearby mosque.
Drivers of two Vauxhall Astras, which police said were "most likely racing" at up to 60mph (100km/h), were arrested on suspicion of dangerous driving.
Both cars hit a BMW 320 car that had pulled out into their path.
One of the Astra cars was knocked towards a pavement, hitting the pedestrians.
'Reckless driving'
One witness, who did not wish to be named, said: "It was that fast, they were going head to head - if they hadn't hit that one car they would have hit another."
Nine other people from the three vehicles suffered minor injuries.
One of the drivers, a 20-year-old man, was treated in hospital but was later discharged.
He and the other driver, 20, were arrested on suspicion of causing serious injury by dangerous driving and racing on a public highway.
Sgt Danny Byrne said police officers were supporting the family of the boy, who is in a critical condition.
"The fact that they are waiting to hear whether their beloved 12-year-old boy will survive reflects the absolute appalling consequences of driving in such a reckless manner," he added.
"The area was very busy with people leaving the mosque following evening prayers and we believe the two cars initially involved were speeding and most likely racing one another."