Fraud soldier David McIntyre criticises government over extradition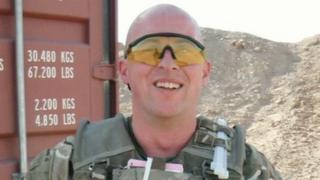 A former soldier who said he would take his life rather than face fraud charges in the US has criticised the government for failing to intervene in his case.
Home Secretary Theresa May made the decision to extradite David McIntyre despite his alleged post-traumatic stress disorder.
Mr McIntyre, 42, from Hyde, Greater Manchester, is accused of overcharging for security services in Iraq.
His sister Joanne McIntyre said the justice system had "abandoned" him.
If convicted he could face up to 20 years in jail in the United States.
Speaking to the BBC, Mr McIntyre called on the Home Secretary to act on his behalf.
He said: "I can guarantee that she has not read anything about this case. She will have had a piece of paper put in front of her and she would have just signed it."
"My life's gone into spiral and my family has gone with me. Its difficult to put into words."
Arrested in uniform
The eight counts of fraud relate to claims he overcharged a US peace group for a security contract when he was running his own firm, Quantum Risk, between December 2008 and 2009.
He said he was arrested in uniform in an operational setting in Afghanistan, flown out of the country 45 minutes later, and then appeared in court in Westminster, London 36 hours later.
Mr McIntyre denies all the charges against him.
He said he had not abandoned the contract in Baghdad, but returned to the UK when he lost his business.
There was a way, he said, that he could be tried in the UK rather than being extradited to the US, but "the government is not prepared to do that".
"I've suffered from post-traumatic stress disorder for several years. It's not something I talk about in an open forum."
His lawyer Karen Todner said she would seek a judicial review of the decision within a week.
If the application is made, Mr McIntyre would not be extradited for at least three months.