Tameside hospital 'chased targets not care'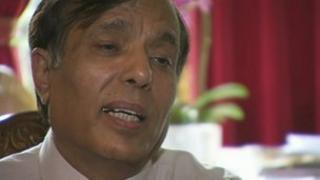 Tameside General Hospital failed patients when "target chasing became the real goal rather than duty of care", a leading health official has said.
That is the damning conclusion former Tameside GP Dr Kailish Chand has drawn about the reasons for failings that led to its high death rates.
Management failings in understaffed wards at 14 hospitals, including Tameside, have been highlighted in a report by NHS England's medical director Prof Sir Bruce Keogh.
Earlier this month, Christine Green quit her job as the hospital's chief executive and medical director Tariq Mahmood also stepped down.
Dr Chand, ex-chairman of the hospital's Primary Care Trust and deputy chairman of the British Medical Association (BMA), said: "I think management failed us.
"There's very, very hardworking clinicians, doctors, nurses, everyone trying to do their best.
"In the economic climate staffing levels are going down, 7,000 nurses have been taken away in the last few years. [Health Secretary] Jeremy Hunt has got to bring the staffing levels back."
'No surprise'
The hospital has now been placed in special measures after the Keogh report revealed patients were being left on unmanned trolleys for excessive periods of time.
But campaigners are critical of the length of time it has taken to see action on standards at the hospital.
Medical negligence solicitor Gill Edwards said it was "beyond" her how regulator the Care Quality Commission (CQC) gave the hospital a clean bill of health in its last inspection published in March.
She said: "Over a number of years we've seen a pattern of cases coming through from Tameside hospital. It's come as no surprise to me that this is now the focus of attention."
Nor has the report surprised Liz Degnen, from Hadfield, who co-founded the Campaign for Change at Tameside Hospital group after her mother Betty died at the hospital in 2009. It followed what she described as "a catalogue of errors".
She said: "We were so appalled and horrified at what we witnessed we said we were going to try to do everything we could to improve things at the hospital and highlight what was going on.
"We're delighted people have finally sat up and took notice of what we have been saying for so long and at last we're hoping something will finally be done.
"Those entrusted with the role of making change could have a long time ago avoided all this if they had fulfilled their role and held management to account.
"Regulatory bodies have failed again and let everybody down.
"They have been getting the all clear for too long when it's taken an outside investigation to come in and do the job the predecessors should have been doing.
"It's heartbreaking to see other people going through what we have and suffering, when you've done everything in your power, all worked so hard to prevent it from happening and it's just going on right under our noses and they have just been denying anything's wrong."
'Nights were horrific'
Milton Pena, an orthopaedic consultant at Tameside said he had been raising concerns with hospital bosses and regulators for more than a decade - despite it making his work life difficult.
He said consistently low nursing staff levels had had an impact on the quality of care.
Mark Burns, whose mother Olive was admitted to Tameside as recently as April shortly before her death from lung cancer, has made a formal complaint to the hospital about her "appalling care".
He said: "It just seemed to be a lack of communication. Staffing levels were unbelievable, especially at night.
"Mum said nights were horrific, she'd ring the bell for pain relief screaming in agony, they'd say 'I'll come back to you later'. The whole organisation at the hospital seemed to be upside down to me."
The hospital said it was in ongoing discussions with the Burns family.
Tameside Labour MP Jonathan Reynolds called for a better inspection regime across the board in the wake of the report.
He said: "The report makes clear serious problems with the organisational culture at Tameside General Hospital, and organisational culture cannot be changed overnight.
"However, I do believe we now have the opportunity to move forward in a way which will ultimately deliver us the local NHS hospital Tameside needs and deserves."